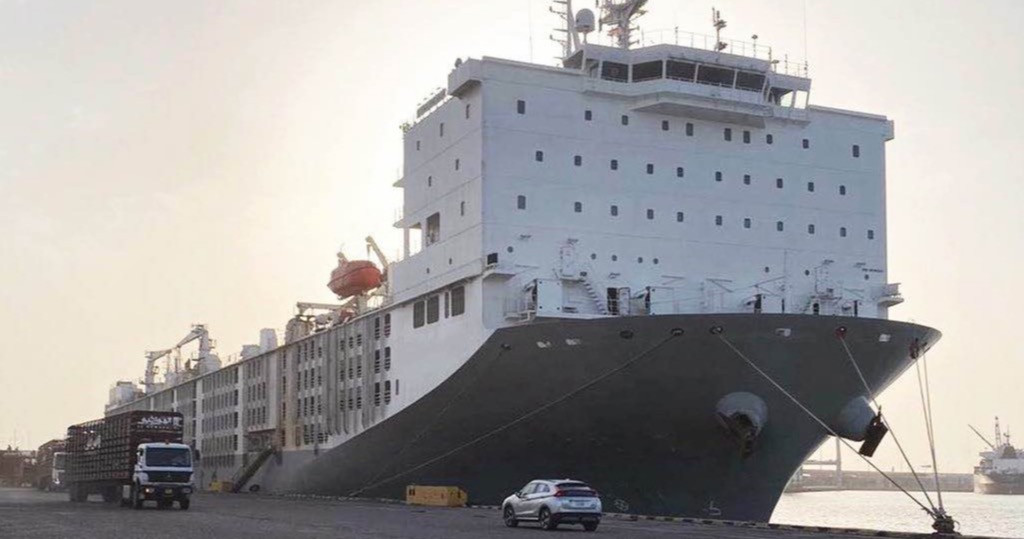 Company News | May 13, 2020
Al Mawashi announces the arrival of their new ship 'Al Kuwait'
AL MAWASHI is proud to announce the arrival of their new ship, 'Al Kuwait', one of the largest transporting ship in livestock channels from Australia to the port of Al-Shuwaikh in Kuwait, constituted with a livestock capacity of around 28,000 sheep and 100 heads of cattle. Al Kuwait is the 3rd ship introduced by Al Mawashi in addition to its previous acquisitions 'Al-Messsilah' and 'Al Shuwaikh'.
The company's CEO, Mr. Osama Khalid Boodai stated the importance of this step in several aspects, most notably raising the operational capacity and productivity to meet its current needs as the most important food security companies in Kuwait and supporting food security in United Arab Emirates aligning with company's plans and interests for regional expansion considering future plans. This ship can raise company's annual capacity of livestock shipment by 800,000 sheep a year, thereby, upgrading its total loading capacity up to 2 million heads annually. Acquisition of 'Al Kuwait' ship will not only amend company's overall loading capacity but also allow it to ascertain wider scope and opportunities in new markets of eastern regions, Asia, the Red Sea and Turkey.
Mr. Osama Khalid Boodai added, 'Al Kuwait' was solely manufactured specifically for the transport of livestock whereas the previous ships of the company were reformed into livestock oriented ships. "Al Kuwait" was designed according to a modern technical system to create a healthy and safe atmosphere for live cattle in compliance with the international standards of care and subsistence. We deal with animals according to the teachings and values of our Muslim and Arab society. It meets all international requirements, and one of the terms of this deal, was that the ship will make a test trip by loading the ship with sheep and cattle from Australia to the Arabian Gulf to ensure that it complies with all international security and health standards by a specialized crew that sailed with the ship to ensure that it meets all the conditions and provide a detailed report on the status of the ship, wherein the report stated that it conforms to all the agreed conditions and standards.
'Boodai' also said that the cost of the ship "Kuwait" reached 53 million dollars, and the length of the ship is 180 meters and the width almost 31 meters, and the total weight is 36,000 tons with a speed of approximately 18 knots, and an area of 24,000 square meters, inculcating a capacity of 70,000 heads of sheep/15,000 heads of cattle and 3,000 tons of fodder per trip.
'Boodai' thanked Company's Board of Directors for their great support and executive management for their great effort and effective initiative undertaken in such difficult circumstances.
AL MAWASHI Livestock Transport & Trade Company is a Kuwaiti public joint stock company, founded in 1973 with its head office situated in Kuwait and expanded in locations such as United Arab Emirates, Australia and South Africa. It is one of the food security companies in Kuwait and the largest carrier of livestock in the world.
AL MAWASHI Livestock Company has its own farms for breeding and nurturing the livestock, also, it accommodates outlets in Kuwait and the United Arab Emirates. In addition to a mobile application and online store on smart devices it holds a customer service call center which is ready to assist all customers' requirements as per their needs and demands. Also, AL MAWASHI established the first virtual meat factory interactive educational and virtual livestock transport ship interactive education in Kuwait in (KidZania Kuwait).
Back to News