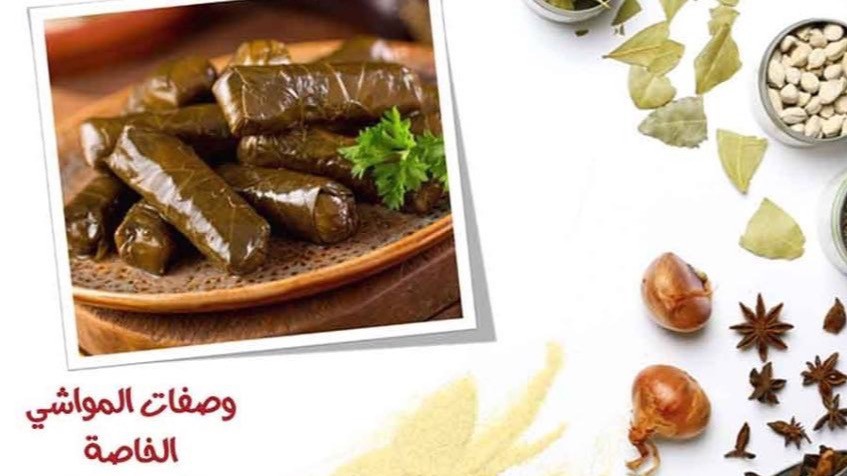 Stuffed grape leaves
Cooking Instructions:
Bring the grape leaves and boil them by putting them with hot water on the fire to boil and change the colour on the fire until it boils and changes colour. Grape leaves are removed from the water and filtered well. We prepare the onion, and then cut it small, and then we cut garlic, tomatoes and mint for small pieces.
Add all the vegetables on the rice after filtering them out of the water, then add the spices, spices, salt and oil, and then stir the mixture to harmonize with each other. We bring the grape leaves, and then spread them on a clean surface, the rough face up, and put a little rice mixture, we then wrap it in a small, neat cylinder with a little tension on the paper until it is firm and does not spoil during cooking.

We bring the whole quantity in the same way. Slice the onion with the tomato slices under the cooking pot. We can add the pieces of chicken after cleaning, washing and seasoning well with lemon, spices and garlic, and then arrange it under the pot, and then stack the grape leaves in an orderly manner. Prepare a litre of water from the water and then put it on the fire with salt and a little oil and cubes chicken stock and leave on the fire until boiling and melts Magi.

Add the water on the grape leaves until the leaves are simple. Cover the pot tightly to preserve steam and to speed up the cooking process. It takes about one and a half hours for the cooker to cook, but when using a pressure vessel, it takes only half an hour after whistling. Serve hot vine leaves with tabbouleh and salad yoghurt or yoghurt.

Ingredients:
250 grams of grape leaves.
Two cloves of finely mashed garlic.
Two fresh red tomatoes.
Half a cup of soft parsley.
Half a cup of finely chopped fresh green mint.
A cup of medium grain rice.
Two tablespoons of olive oil.
Medium lemon juice.
Cubes of chicken stock.
Salt a teaspoon of it.